Capabilities and Specialty Options
Your job will be completed with the highest quality standards, mailed accurately and on time. JSSCO will work with you to produce:
any printed product you desire
in any quantity
in your choice of unique binding and finishing options - with your exact specifications
To find out more, click on the products below.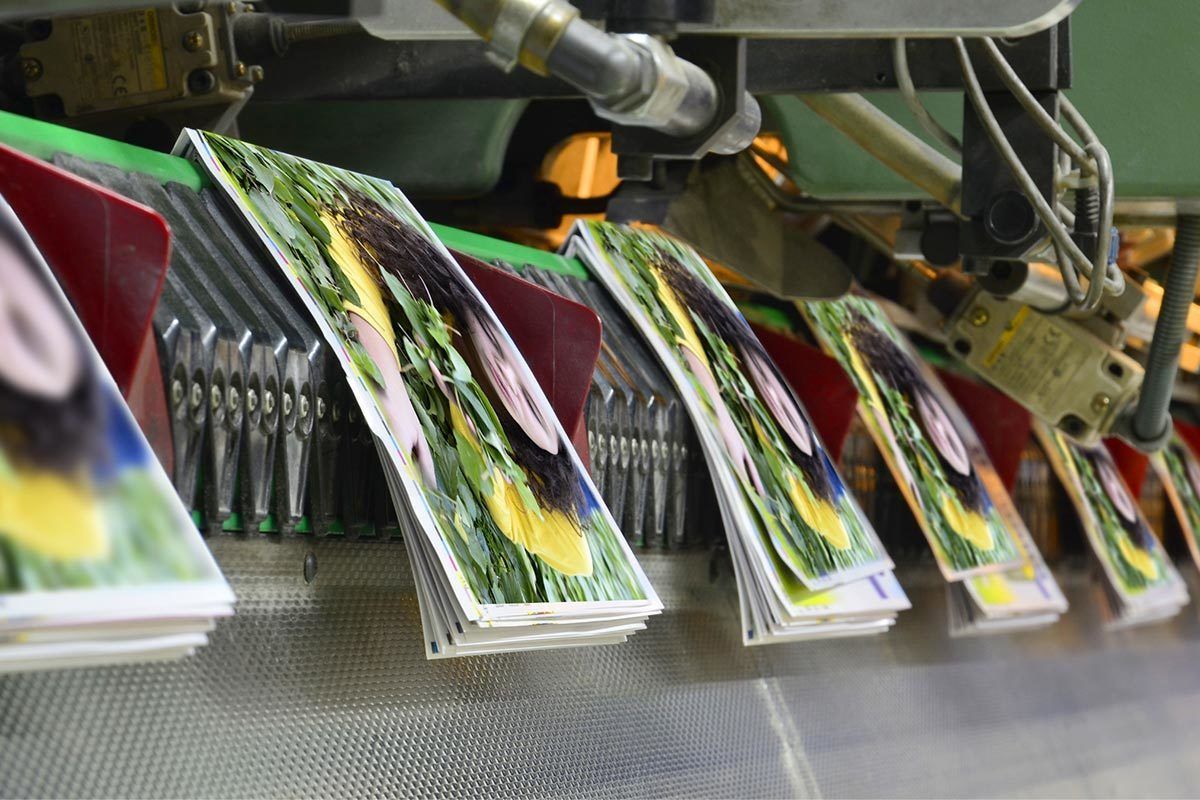 | | | | |
| --- | --- | --- | --- |
| Short-run Document Printing | Book Binding | Over Sewing | Embossing |
| Long-run Document Printing | Case Binding | Saddle Stitching | Foil Stamping - leather/Kivar/board |
| Short-run Book Printing | Drilling | Side Sewing | Gilding |
| Long-run Book Printing | Layflat Binding | Smythe Sewing | Lamination – gloss/matte/soft-touch |
| Envelope Printing | Otabind | | |
| Newspaper Printing | Perfect/PUR Binding | | |
| | Plastic Coil Binding | | |
| | Rep Kover | | |
| | Wire-O Binding | | |
Short-run Digital Document PrintingDigital printing produces dependable, clean and clear high-quality, short-run results while maintaining a standard of cost-efficiency, quick turn-around times and optimal delivery schedules.

Long-run Document PrintingThis is done incorporating a traditional offset printing process.
Common long-run printing pieces: magazines, newsletters, catalogs, brochures, promotional mailings.

Short-run Book PrintingWe specialize in short runs of 1-1000 books. This is an excellent choice for private, self-distributed publications. Equally, JSSCO can print, bind shrink-wrap and ship your short run books to your customers. The majority of expense is within the initial setup. Unit cost goes down with each copy printed.
Short-run binding applications JSSCO offers: Head banding, rounding and backing, shrink-wrapping, four styles of cloth, printed/laminated covers, color or monochrome printing, assorted paper weights and colors

Long-Run Book PrintingWith a minimum print run of 1000+ copies, this book printing choice offers the widest range of choices for paper, ink (color or mono) cover materials (paperback or hardback) and bindings with the lowest cost per book in a large volume category.

Envelope PrintingAn envelope is an important element which first highlights professional or personal identity. Often accompanying a letter for direct mail advertising, an announcement or brochure – your company's printed logo will receive maximum exposure with our custom-printed envelopes. Multiple sizes and stock types are available.

Newspaper PrintingClassic web-press newspapers are produced using the highest quality printing technology while offering the lowest newspaper printing prices. All orders are printed on regular or hi-bright newsprint.

Specialty Book BindingJSSCO remains at the US forefront of specialty, artisanal binding techniques.
Each day, we work on a variety of projects:
-Thesis and dissertation binding
-Custom made presentation boxes
-Book restoration
-Family history legacy books
-Archival bindings
-Magazine collection bindings
-Restaurant and bar menus
-Hotel welcome booklets and folders
-Custom/bespoke projects

Binding styles include:
-Hand tooled gold leaf
-Gilded and inked edges
-Marbled interior cover pages
-Sewn finishes

Hardcover/Case BindingThis is the most durable and lasting binding option. Typical cover materials are binder's board or heavy paperboard covered with buckram or other cloth, heavy paper or leather. Inside pages are typically sewn together in sections, glued to paper, then glued to the cover's spine. It is ideal for books with at least 40-50 pages, i.e. yearbooks, textbooks or anything requiring high-use durability.

DrillingDrilling is the process of boring holes through large volumes of paper. One or more holes (commonly 3 to 5 or more) may be accurately drilled at one time.
Saddle-stitched, Perfect Bound and ringer binders often require hole drilled sheets. We can efficiently accommodate all of your drilling needs.

Lay-flat BindingGreat for corporate publications, artbooks, cookbooks, etc. This type of bookbinding technology allows your book to lay open and flat when opened to a particular page. No print is lost in the gutter and two-page spreads are fully visible.

OtabindNo staples, flexible and lays flat – a true artisanal binding. Pages are bound in signature groups, then fastened to a crepe or gauze liner/not to the cover. The first and last pages of the book block are glued to the cover. This floats the pages, takes stress off of the spine. In agreement, pages lay flat. Cold set glue is used to prevent stiffening and cracking.

Perfect/PUR Binding/SoftcoverA similar and economical alternative to hardcover binding. Inside sheets are bound to a thicker, laminated cover. The spine is glued or threaded together. This is a terrific choice for large quantity production. Great examples using PUR Binding: comic books, novels, coloring books, workbooks.

Spiral Binding/Plastic Coil BindingA plastic coil is inserted along the spine to hold pages together. This choice allows for flexibility to open pages 360 degrees and not have to bend the spine when writing on the fronts or backs of pages. Great examples using Spiral Binding/Plastic Coil Binding: phone directories, membership directories, cookbooks, workbooks, coloring books.

Rep KoverAn excellent choice in lay-flat binding for a soft cover book. This binding differs from traditional Perfect Binding by gluing the book back to a strip of cloth (muslin) and not to the inside covers. The cloth overhands the edges of the book block and this overhang is glued to the inside covers – leaving the spine free to fully lay flat. Rep Kover compliments all runs.

Wire-O BindingSheets are bound using multiple-loop metal rings, creating a sophisticated, easy-to-use, durable final product. This process easily accommodates assorted thicknesses of pages and paper types. Extremely user-friendly, Wire-O allows books to open 360 degrees for note taking, staying open on a desk or flat when hung on a wall. An excellent choice for directories and calendars.

Over-SewingThis binding style is produced when loose leaves of paper are sewn together to form an extremely durable block. Threads pass through small holes punched near the spine. These threads form overlock stitches. Each section attaches to the previous section. A piece of reinforcing cloth is glued to the paper block for additional support.

Saddle StitchingSheets of paper are folded and bound using staples. With a lower page count (usually less than 100), booklets, pamphlets, catalogs and magazines are common candidates for saddle stitching.

Side SewingBest for books up to 3/8" in thickness, thread is passed through the thickness of a book on the edge nearest the spine. This technique offers great strength. An excellent choice for: textbooks, catalogs, journals, planners, datebooks, calendar books.

Smythe Sewing/Section SewingThis is the highest quality and most durable binding available today. Often referred to as "library quality" or "archival quality" because pages are physically sewn into the book using thread and reinforced with fabric backing and adhesive. Often the choice for archival books, logbooks, program books and notebooks, Smythe Sewn books are tamper proof as a page cannot be removed without destroying the integrity of the binding. Bindings lay flat. Pages are easy read and write in.

Embossing (Die Stamping)A process which creates a raised image. Often used together with foil stamping, this technique employs custom made dies. Paper is placed between one raised and one recessed die. When the paper is pressed between them, an embossed impression is produced. Embossing is an elegant way to attract attention, add style and show contrast in texture.

Foil Stamping (or Foil Printing)This is a premium printing method which applies metallic foil to a surface, creating a decorative finish. It involves the creation of a custom (often handmade) metal die. This die is often commissioned from an original segment of artwork, logo or similar image. The die is employed to stamp the foil onto the product surface. Finishes can be metallic, matte, glossy or holographic. Ideal uses for foil stamping are book covers, program covers, product packaging, etc.

GildingThis is a decorative technique of applying gold or silver leaf to a surface, elevating your project with a high note of elegance and luxury.

InkingAn option to metallic gilding, inking uses non-metallic color and applies it to the edges of a bespoke book, etc.

LaminationAvailable in gloss/matte/soft-touch, lamination adds a plastic film to your printed piece. Lamination adds protection and strength to any job. Anything printed that is handled frequently warrants the consideration of using lamination.

Soft-TouchAlso called suede or velvet lamination, it is a clear, soft-film finish added to products used for presentation. After printing, Soft-Touch lends a subtle, low luster texture with little to no shine.